The following is from RootsMagic. I think a gift to yourself would work!
Holiday Offer Extended Through End of Year
We've gotten a bunch of emails and phone messages the last couple of days asking if it was too late to take advantage of our holiday special. The special officially ended a couple of days ago, but we realized we forgot to send out a reminder a few days before like we usually do, so
we're going to leave the special up through the end of the year
.
So if you still need to do some last minute shopping, or want to get a head-start on something for Valentines Day, you're still in luck.
Just keep in mind that although the special pricing will continue through the end of the year, it is most likely too late for you to get it shipped in time for Christmas day (just being honest). But this year the special is available as a download with a certificate you can print and give the recipient.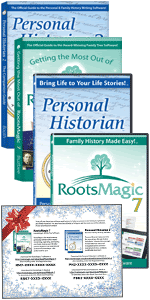 Our Most Amazing Holiday Special Yet!
For the first time ever, you can order our holiday special as a download at an even greater discount. And since these make great gifts, your download order will include a beautiful printed certificate you can give the recipient which tells them how to download their gift!
As a RootsMagic customer, you can get our amazing
holiday download bundle
including
both RootsMagic 7 and Personal Historian 2
,
plus both companion books
Getting the Most Out of RootsMagic 7
, and
Personal Historian 2: The Companion Guide
(a $90 value) for only
$25
!
But if you prefer the
physical books and CDs
, you can get them for just $10 more (
$35 plus shipping
).
There is no limit on the number of discounted gift copies you can buy during this limited time offer which is
being extended through

January 2, 2017
.
While ordering online is the quickest and easiest way to order, you can also order by phone at 1-80
0-ROOTSMAGIC
(1-800-766-8762
). With the volume of calls, you may need to leave a message to be called back and you'll need to mention the code HOLIDAY2016 when you call.
To take advantage of this offer, just visit: