I am a little behind in reading my email so I just stumbled upon this announcement in the Ohana Insights Spring 2013 Newsletter. It confirms the rumors I heard that FamilyInsight will not be updated to sync with FamilySearch Family Tree.
Insights into FamilyInsight: Change is in the Air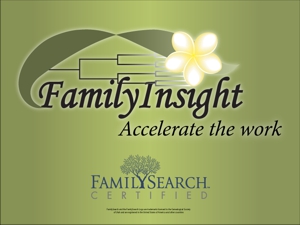 After careful consideration we have decided that AncestorSync will become our vehicle to work with the FamilySearch Family Tree and FamilyInsight will return to its original purpose as a premier tool for cleanup, file to file comparison and update, and file conversion tool. As collaboration options increase, these two programs will function well together so you can send files that are well maintained.

For now, FamilyInsight will continue to work with new FamilySearch as long as new.familysearch.org is viable. However, there are some features that you should not use. When you are in the Full Synchronization mode, do not combine or separate records. If there are multiple possible matches, find the best match, mark it as a Match, mark the others as Not a Match, then synchronize the record. If a record has been incorrectly combined, you can no longer separate from within FamilyInsight as the FamilySearch Family Tree deals with this issue differently. If you try to combine or separate records, you will receive an error message.

If you choose to add new information to the record on FamilySearch, take the additional step to verify that the summary information is correct. You can do this using the FamilyInsight View/Change Summary button on the upper right part of the Details window. The summary information is updated to the Family Tree.

AncestorSync is still in development and it is not ready for sale yet. We have overcome huge obstacles and we are now focused on perfecting data retention for each file format that we will work with. It is exciting to see the progress but we still have a lot of work to do. Keep reading the newsletter to stay informed about beta testing and release information.

Thank you for your continued support. We look forward to providing you with great tools and new products as we move forward.
Thank you for using FamilyInsight!