The following is from the Federation of Genealogical Societies.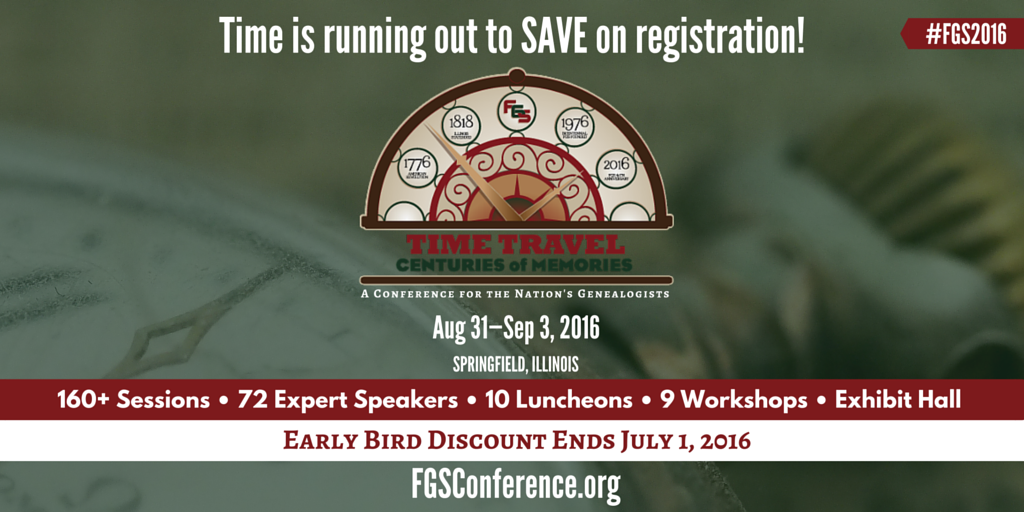 TIME TRAVEL: CENTURIES OF MEMORIES
A Conference for the Nation's Genealogists
Join fellow genealogists and family historians Aug. 31—Sep. 3, 2016, at the FGS 2016 National Conference, "Time Travel: Centuries of Memories," designed to inspire you and enrich your family history.
Hosted by the Federation of Genealogical Societies with local host Illinois State Genealogical Society in Springfield, IL, FGS 2016 brings you sessions with a wide array of offerings from many of the nation's leading family history experts, along with top international speakers from Scotland and Australia. Each day of the conference is full of sessions aimed at strengthening your research skills no matter what your level or area of expertise might be.
You'll meet new friends and old while learning from top-notch speakers. Whether you are just starting to research your family tree or have been an avid genealogist for years, the FGS 2016 Conference is an event you cannot miss. This year's all-star lineup features speakers from across the world, and topics will blend recent trends in family history — from DNA to technology with balanced research tips and general advice.
Here's what is planned for you at FGS 2016:
Learning:
With over
160 sessions
,
72 expert speakers
from around the world, 10 luncheons with speakers, 7 workshops, 2 interactive seminars, and exhibit hall, learning opportunities abound in the
FGS 2016 program
! With strong daily tracks covering the U.S. Midwest (regional track), the United Kingdom (British Isles and Commonwealth track), and continental European research (ethnic track), you'll learn a multitude of ways to uncover more about your family's history.
The migration track will provide many ideas for tracing how ancestors moved, and attendees will learn how to put their ancestors into context with the occupations, military, and religions tracks.
To stay current or expand your understanding of the value of DNA and technology tools, look for sessions and tracks on these subjects throughout the program.
At FGS 2016, there is something for everyone interested in exploring family history!
Networking:
We've built-in a multitude of opportunities to meet like-minded genealogists and family historians with our
special events
including celebrating our FGS 40th Anniversary Gala on Friday night. Also, catch-up with old friends or meet new ones at one of our
10 luncheons
, or explore our
exhibit hall
with other genealogists meeting genealogy vendors.
Fun:
FGS conference attendees always have fun, and this year will be no exception with our
special events
including the premiere of the
FGS Family History Quest
game where
40th Anniversary Gala
attendees will take a stroll down memory lane with FGS and have the opportunity to win prizes.
Plus, Springfield, IL, and the surrounding area are filled with easy-to-access
historic sites and research opportunities
with the Lincoln Home National Historic Site and the Abraham Lincoln Presidential Library & Museum within walking distance of the convention center, and others just a short car ride away.
7 Reasons You Should Attend FGS 2016: