The following is from Ancestry Academy.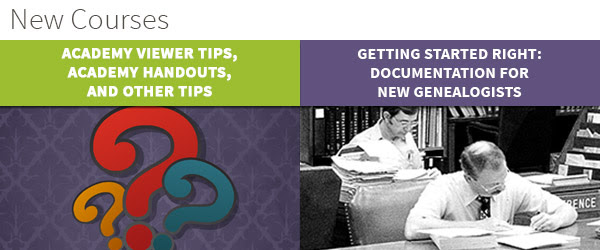 New Course on Ancestry Academy!
Getting Started Right: Documentation for New Genealogists, with with Thomas W. Jones, PhD, CG®, CGL, FASG, FUGA, FNGS
Documenting from day 1 helps you avoid revisiting the same materials again and again, and it helps you understand important qualities of materials you use. Most important, documentation is essential for a family history to help others. This 15-part course gives straightforward guidelines for citing materials, using waypoints, and otherwise documenting your research.
Tips for viewing videos on Academy
Have you ever watched a presenter who speaks too quickly, or wondered where to find a handout? If you're new to Ancestry Academy—or just need a refresher—we now have helpful tutorials about using the site:
Use the rich features of the Ancestry Academy viewer to view closed captions, speed up or slow down the presenter's delivery, repeat the last few seconds of video, and more.
Maximize your viewing of full course videos by knowing where to find handouts and how to navigate lessons.