The following is from Research Ties.
Announcing a new ResearchTies feature: Multi-user logs!


Do you coordinate your research with family members, other professionals, or work on a group project at your genealogical society?



ResearchTies research logs can now be shared between accounts.

Two or more researchers can work on the same log, each working in their own account, and the program will track the changes made by each researcher. Here is how it works:
A ResearchTies subscriber creates a new log.

Email invitations are sent to other subscribers.

Those receiving the invitations click on the link in the email to accept the invitation.

The shared log is added to the list of logs for each person accepting the invitation.

Each researcher works in their own account on the shared log.

The program tracks who is making various changes to the log.

All researchers can search the log to see what has been done. This includes searching for data and documents, as well as searching by researcher to see what has been added or edited by others.
Each personal account in ResearchTies allows the subscriber to create three logs; however, each subscriber may receive invitations for an unlimited number of logs. Professionals or other researchers who need more than three logs can subscribe to add-ons in bundles of ten.
Non-profit genealogical societies that are interested in using ResearchTies for a society project, send an email to:
support@researchties.com
to request additional information. Societies may use the program at no cost for non-profit projects if at least five members of the society have subscriptions with ResearchTies.
Now there are two ways to share your research using ResearchTies. Use the multi-user function for multiple subscribers to work on the same log, or generate PDF reports that can be emailed to non-subscribers to share your searches and documents.
Start sharing today!

For more details on each step listed above,
click here
.
Changes to the ResearchTies Home Page Buttons

To make the home page buttons more intuitive and user friendly, the "Add Information" button has been changed to "Add Research Data." The "Manage Lists" button is new and has the same functions as the list icon on the toolbar.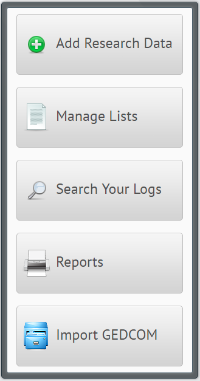 This change has been made to distinguish between adding research data (objectives, searches, and results) and adding or editing list items that are used in the dropdown boxes of the program.

To add an objective, search, or result, click on the "Add Research Data" button and continue as you have in the past. To add or edit items in your lists, click on "Manage Lists" and select the list you want to work on. The lists that are available for editing are the sources, repositories, individuals, families, surnames, and places. After selecting the list, use the "add," "edit," and "delete" functions as you have in the past.


Watch for more great features coming soon!