The following is from Zap The Grandma Gap and Family ChartMasters.
Instant Family History Gifts--Because A Scented Candle
Never Changed Anyone's Life
E-Books Now Available
Now all of our Zap The Grandma Gap Books are
available in e-book format!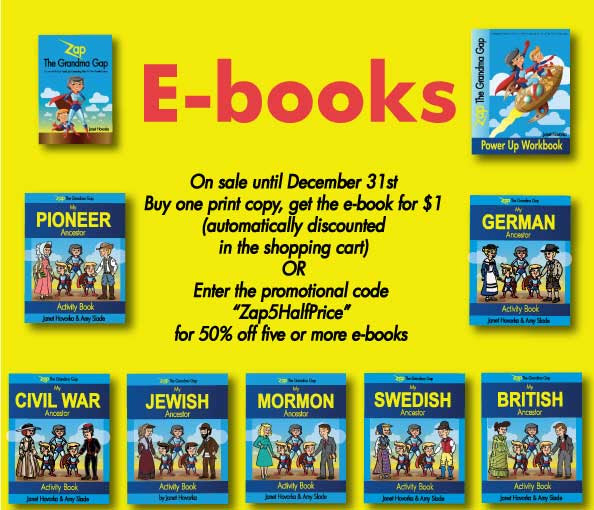 With hundreds of live links to all of the best genealogy sites all over the web and now with instant delivery, these e-books are sure to be a hit with your family members. We hope this new delivery system will make it even easier to share your family history with your family members.
I am offering an introductory sale on all of the e-books.
For complete details on this sale
and for gifting options, please take a look at the full blog post on
the Chart Chick
or
Gift Certificate Sale
Taken from The Chart Chick blog:
I am running a sale on gift certificates from now
until

December 22nd
. Even if you are a wait-until-the-last-possible-
second kind of shopper, you can get an instant gift that doesn't come with a killer price tag. From now until
December 22nd
, I am offering
25% off of all gift certificates.
It's so easy and you can print the gift certificate directly from your computer immediately after purchase. Not to mention your loved ones still get a meaningful gift, to their exact specifications, with only a few mouse clicks from you. You save money and get all of the praise without the hassle and sweat. This is absolutely the best way to go as Christmas and Chanukah approach.
Continue reading
this post on The Chart Chick Blog for full details on how to get your instantly downloadable gift certificates. Or just