The following is from Janet Hovorka of Family ChartMasters and Zap the Grandma Gap.
E-Books Now Available
Now all of our Zap The Grandma Gap Books are
available in e-book format!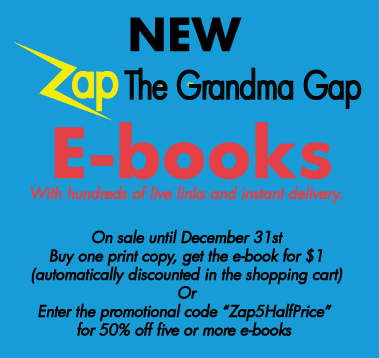 For the first time ever, I am pleased to announce that all of my
Zap the Grandma Gap
books and workbooks are now available in e-book form! It was a bit of a curve ball for this traditional librarian to decide to go digital, but with great thanks to my team at Family ChartMasters, I am ready to offer you all portable versions of each of my books, including my
three brand new workbooks
.
With hundreds of live links to all of the best genealogy sites all over the web and instant delivery, these e-books are sure to be a hit with your family members. We hope this new delivery system will make it even easier to share your family history with your family members.


And to celebrate this exciting milestone, I am offering an introductory sale on all of the e-books.
For complete details on this sale
and for gifting options, please take a look at the full blog post on
the Chart Chick
.
Preview My New "My Ancestor" Activity Books for Children. Now Available for Holiday Gift Giving!
My Jewish Ancestor

With the "My Jewish Ancestor Activity Book" you can:
· Learn about Jewish history, traditions and culture
· Make and braid Challah bread with your family
· Solve a Jewish calendar crossword puzzle
· Record your family's recipe for Charoset
· Find your family's place in the Diaspora
· Learn the Hebrew alphabet
· Complete a genealogy word search
· Enjoy a Yiddish folktale and Mizrahi Nasrudin stories
· Color, cut out and tell stories with Jewish ancestor paper dolls
My Pioneer Ancestor

With the "My Pioneer Ancestor Activity Book" you can:
· Map out the pioneer route of your ancestors
· Decide what you would pack for a journey across the plains
· Learn how to find direction by the sun
· Compare your day to the day in the life of your ancestor
· Try classic pioneer recipes
· Write a Pony Express letter to a pioneer ancestor
· Play a game about the risks along the trail
· Contrast pioneer schools and modern schools
And explore many other activities
My Mormon Ancestor

With the "My Mormon Ancestor Activity Book" you can:
· Plan an ancestor Family Home Evening
· Learn about priesthood line of authority and how to trace it
· Find the patriarchal blessings of your ancestors
· Complete a temple dot-to-dot
· Document the church service and callings of your ancestors
· Gather information on your family's missionaries
· Record information about the first LDS members of your family
· Make a handkerchief doll for church
And explore many other activities
We hope these workbooks will be the perfect gift to make the holidays more meaningful in your family.
Science has proven
the importance (academically and emotionally) of children having a sound sense of self. These activity books are a great way to introduce your children or grandchildren to your family's personal heritage in a fun and interactive way. The added bonus is that they don't even know they are doing family history--they're just having fun. A fun, non-frustrating first experience is vital to helping your young ones discover the joy and satisfaction that comes from knowing and understanding where they came from. These books will make fabulous gifts for the children in your life. Be sure to order some today!
Order by
Dec 15th
for holiday gift giving at